The Joe Hancock Room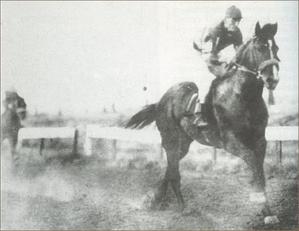 When you say the name Joe Hancock in Nocona, you often have to clarify if you are talking about the horse or the man. The horse is legendary and set the Quarter Horse world on fire. It is not known how many races Joe Hancock ran, or how much money he earned, but several people at the time swore that they financed their farms from betting on a sure thing like Joe Hancock.

Joe David Hancock, along with well-known trainer, Uncle Bird Ogle, brought Joe Hancock, the horse, to racing fame. He stood between 15.2 and 15.3 hands high. He was dark brown with a white blaze running down his face. Ogle entered him in a race in Comanche, Oklahoma and at registration Ogle was asked for the horse's name. His reply was, "He is owned by Joe Hancock of Nocona, so just call him Joe Hancock."

He was inducted into the AQHA Hall of Fame in 1992, acknowledging him as one of the greatest race horses of the time.

---