The Jesse chisholm room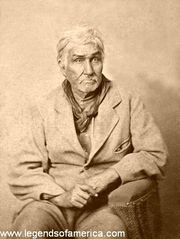 Although Jesse Chisholm never even lived in Montague County, his life and his work managed to shape the county's history in a way that no other individual ever has.

Chisholm was born in Tennessee in 1805 or 1806, his father a Scottish immigrant and his mother a full-blood Cherokee. Around 1820, Chisholm settled near Fort Gibson in the Indian Territory and set up a very successful trading post. He also worked as a hunter, trader, and scout. He was fluent in fourteen Indian languages, making his trading post a favored spot for many different tribes throughout the territory. His linguistic skills also made him a highly sought after interpreter, and he worked alongside Texas President, Sam Houston, in several tribal councils. During the Civil War he worked first with the Confederates as a trader, and later was an interpreter for the Union.

Chisholm himself never herded cattle up the trail that bears his name; nevertheless the trade route he developed was the one followed by drovers and quickly became known as the Chisholm Trail.

---